Home
Welcome to AppAde.com, home of Lottotopia & Lotto Free, the best iPhone Lottery Apps for checking Lottery Results and Tickets on the go.
Tell Lottotopia which Lottery games you play and it will keep you informed of the latest drawings and jackpots.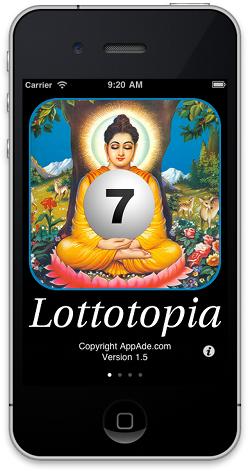 Download Lottotopia from iTunes
Lottotopia knows a lot about each lottery game and can tell you how much time remains before the next drawing, and how large the jackpot has grown.
With Lottotopia, you can enter your lottery ticket numbers and Lottotopia will help you check them.  When you have matching numbers, Lottotopia highlights them in green for you.
Download Lottotopia from iTunes
Enter your own lottery numbers or simply shake to have Lottotopia pick numbers for you (then all you have to do is buy your ticket!).  If you play the same number repeatedly, simply tell Lottotopia how many draws you wish to play.
See A Demonstration Video